Sustainability has become a buzzword in recent years, and for good reason. The world is facing pressing environmental challenges that require immediate action. The built environment, particularly buildings, has a significant impact on the environment. According to the United Nations Environment Programme, buildings account for 39% of global carbon dioxide emissions. Therefore, architecture has an essential role to play in achieving sustainability goals; one way to achieve this is through exterior retrofits, an area which f-BLOK has extensive expertise in.
What is an exterior retrofit?
An exterior retrofit is a process of upgrading the exterior of a building to improve its performance and reduce its environmental impact. This can include a range of measures, such as adding insulation, replacing windows and doors, upgrading roofing, installing renewable energy systems, and more. Exterior retrofits are becoming increasingly popular as a way to improve building energy efficiency and sustainability while reducing energy costs.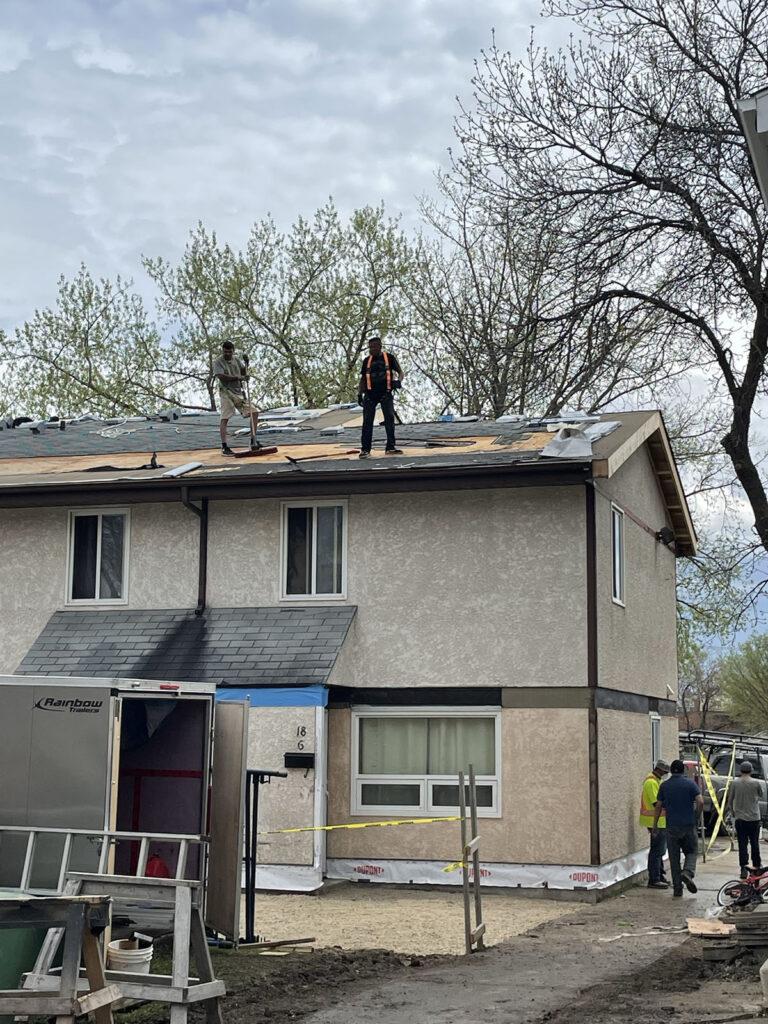 There are many examples of exterior retrofits that have been successfully implemented around the world. One such example is the Empire State Building in New York City. The building underwent an extensive retrofit in 2011, which included replacing windows, upgrading lighting and HVAC systems, and installing building automation systems. The retrofit resulted in a 38% reduction in energy consumption and a savings of $4.4 million in annual energy costs.
Another example is the Rogers Centre in Toronto, Canada. The stadium underwent a retrofit in 2010, which included the installation of a green roof and the replacement of the existing roof with a new, energy-efficient membrane. The retrofit resulted in a 30% reduction in energy consumption and a savings of $300,000 in annual energy costs.
On a local scale, f-BLOK frequently works with Manitoba Housing to upgrade their existing building stock and improve conditions for the tenants, while reducing long-term maintenance costs.
Challenges of Exterior Retrofits
While exterior retrofits offer many benefits, they also present some challenges, particularly due to a of lack of expertise. Many architects and contractors may not have the knowledge and skills necessary to undertake complex retrofits. This can lead to delays and cost overruns, discouraging building owners from pursuing retrofit projects. f-BLOK has completed numerous exterior retrofits over the years, resulting in a solid understanding of the building science behind them.
In conclusion, exterior retrofits have become an increasingly important aspect of sustainable architecture. By improving the energy efficiency of buildings, exterior retrofits can significantly reduce greenhouse gas emissions and improve the quality of life for building occupants. While there are challenges associated with exterior retrofits, the benefits they offer make them a critical tool in achieving sustainability goals. Architects and building owners should consider exterior retrofits as a viable option for improving building performance and reducing environmental impact.